Archive for 'Cayman wedding'
Caribbean Beach Wedding photographed by Melissa Wolfe
I had the pleasure of capturing Mindi and Chris's Caribbean beach wedding recently at the Westin Grand Cayman.
How did you meet?
We met on eHarmony (dating website) and were inseparable from our very 1st date. We met for dinner before a concert he was taking me to and got so caught up in each other that we forgot to order our food! It was love at first sight.
Why did we choose the Cayman Islands?
We researched so many Caribbean destinations when planning, but the pictures of the Caymans (water, vibe, beauty) truly encompassed everything we wanted for our special day and for the pictures that we would have to tell our story for the rest of our lives. 
The highlight of working with Melissa on our big day was her amazing energy! From the moment she walked into the hotel room to begin our session/my bridals, I felt like I was in the company of a friend. I'm not a fan of staged photography, and without her even knowing that, her artistic eye captured so many beautiful moments I would have never remembered and even put together quite a few posed shots that were absolutely stunning. We were able to be 100% us because she made us feel so comfortable. I was so happy she was just as excited as I was to take shots with my wedding dress in the water! If I would have thought to schedule more time, I promise I would have had her do a complete romantic trash the dress session in the sand…but…that just gives us a reason to come back & celebrate our 1 year anniversary!!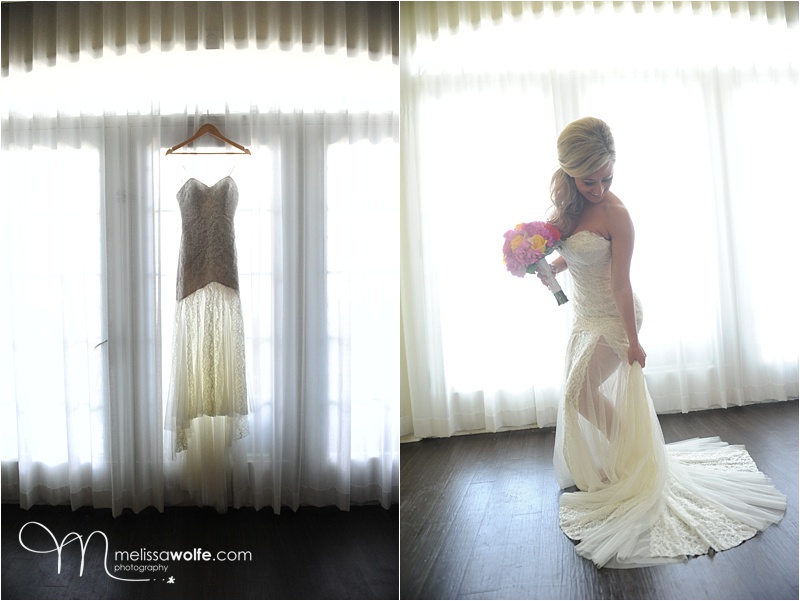 Inspiration Board for Caribbean Wedding Dresses by Melissa Wolfe
Choosing the right Caribbean Wedding Dress for your Cayman Islands Destination wedding can be a fun experience but also may have some challenges. Below are some gorgeous wedding dresses from recent Cayman Islands Weddings … airy, elegant, playful and lace .. everything beautiful!
Wedding Westin Grand Cayman by Melissa Wolfe
Thi and Mike celebrated their love with a wedding  Westin Grand Cayman.
We asked Thi tell us a little bit about her engagement and her Cayman Destination Wedding:
After a year of dating, Mike had secretly asked for my mum's permission for my hand in marriage during our Christmas visit. Both our families knew and kept the secret from me for months. Having known that traveling to Paris was a dream of mine, we finally planned and booked a trip there. Everything I could ever have dreamed of happened in Paris! During our dinner, with the Eiffel Tower in the background, Mike led me outside on the balcony and dropped down on one knee and proposed! It was beautiful, magical and surreal.
I have always wanted to get married on the beach. With our perfect proposal in Paris, we wanted to find the place for our dream wedding to occur. After researching different island, Cayman offered the perfect combination of location, convenience and spectacular sunsets! We fell in love with the Westin and Seven Mile Beach and the rest is history!
Planning a destination wedding can be extremely overwhelming and stressful. However, Melissa was professional, organised and put any of our concerns to rest. She understood the venue, lighting and timing to capture our special moments.
We loved every moment of our wedding and we can't thank Melissa enough! For years to come, we can re-live and celebrate our special day through our photographs!
Wedding Ring inspiration from Cayman Islands Weddings
As wedding photographer, I get to photographer the most gorgeous wedding rings during my Cayman Islands weddings. From glitzy to elegant and understated there is something for every taste. Enjoy!
A Seven Mile Beach Wedding captured by Melissa Wolfe
Valerie and Clayton invited their close family to their nuptials on the shore of for their Seven Mile Beach Wedding. They chose the Ritz-Carlton, Grand Cayman for their wedding ceremony.
We started of the photography session in the lobby of the hotel as we made our way to wedding gazebo set up on the beach. The set up was just gorgeous with as the sun was dipping in to the Caribbean Sea.
A Westin wedding and a Grand Old House Reception
Rosie & Will exchanged their vows with their toes deeply buried in the white sand of Seven Mile Beach at the Westin Grand Cayman Beach Resort. After the ceremony the whole wedding party took the festivities to their Grand Old House Reception where Rosie and Will partied the night away with family and friends.
wedding venue: The Westin Grand Cayman Seven Mile Beach Resort
reception: Grand Old House
A Grand Cayman Marriott Wedding photographed by Melissa Wolfe
The Grand Cayman Marriott Beach Resort was the location for My Linh and Paolo's wedding surrounded by their close family. My Linh looked stunning in her wedding gown perfect for a beach wedding. I especially love the vintage inspired hair wreath she is wearing. Being a true Italian with a smart Italian suit Paolo looked pretty debonair himself. Congratulations to the two of then on their Grand Cayman Marriott Wedding.
The "lightbox magic" of an overcast sky…
It was an overcast day, as sometimes happens during Cayman's rainy season (June 1st – November 30th).  It rained lightly before and after the ceremony for this Grand Old House Wedding.  Trying to describe overcast light with words is tough, but I am going to give it a try!
The beauty of Cayman's overcast days is the even light created by white clouds.  Mother Nature provides a virtual soft box.  The warm sunlight becomes filtered and produces a natural studio with gentle light coming from all directions.  It bounces off the sea, the buildings and even the people around.  Light is everywhere.
Chantelle & Sean selected the historic plantation home Grand Old House in Grand Cayman to share their vows and commitment to each other.  They invited their closest family and friends, who all enjoyed how special and memorable a Cayman Islands wedding can be.  The Grand Old House has plenty of covered areas in the event that it does rain too hard to be outside.  Thankfully, this was not the case.  The advantage to such a historic venue is the traditional architecture, which adds a lovely background of outdoor space.
It also helps to have a sunny disposition with creating wedding portraits.  From beginning to end, Chantelle & Sean lit up the Grand Old House.  Of course this made my job of capturing the magic a happy and sunny pleasure.  The other "light and sunny" part of their day was the enthusiasm and energetic participation of their wedding party.  No hurricane or threat could have dampened the spirits of a positive, supportive and outgoing group of friends/family.
The Great Ball of Fire finally did made an appearance at the end of the wedding shoot and sunglasses became necessary instead of the umbrellas.  That is one of the many great things about Cayman…. if you don't like the weather, be patient with Mother Nature, as she always delivers.
Not every wedding in Grand Cayman takes place on one of our beautiful beaches. Tiffany & David exchanged their vows at St. Ignatius Catholic Church. After the ceremony we drove to a local hangout for some fun images.
The reception took place at a stunning waterfront restaurant 'The Wharf'. A wonderful place to celebrate Tiffany & David's wedding. Congratulations to you both!