Archive for 'Philanthropic & Charity'
Cayman National Trust Hatitude 2017 photographed by Melissa Wolfe
Maybe one of my favourite charity events of the year is the Cayman National Trust Hatitude Fundraiser. The colourful event now in it's 4th year took place at the Grand Old House.
In celebration of the National Trust's 30th Anniversary, patrons are encouraged to draw inspiration from wildlife, flora or fauna whether in full regalia or just highlighted by choice of hat. The most amazing creations where to be seen.
For a full gallery of images please follow this link.
Young Caymanian Leadership Award 2016
It was an honor again to be part of the Young Caymanian Leadership Award 2016. The awards night was the first event at the new opened Kimpton Seafire Resort here on Grand Cayman. It was a wonderful setting lavish transformed by Celebrations Ltd.
Brianna Wilkerson was the recipient of this years Young Caymanian Leadership Award their 16-Year Anniversary event.  Brianna has already hit the ground running, speaking at her first engagement only 36 hours after receiving the prestigious YCLA Recipient title for 2016.
The Young Caymanian Leadership Awards programme aims to recognise and honour role models for the youth of Cayman. Each year, the recipient commits a significant amount of time and energy to speaking with and encouraging Cayman's young people to make the right choices in life and achieve their full potential.
To view all images from the event and purchase your copy, please follow this link.
Breast Cancer Gala Dinner 2016 photographed by Melissa Wolfe
As October, the Breast Cancer Awareness Month, comes to an end I would like to share the images of the Breast Cancer Gala Dinner 2016. It's just a little reminder, we need to fight breast cancer all year around and raise awareness for early detection.
For all images from the Gala please click here!
For images from the Step & Repeat by Dennie Warren Jr. of Better Angle Photography click here!
100+ Women Who Care Cayman
The local chapter of 100+ Women Who Care in Cayman holds quarterly meetings one hour meeting and raised funds for local charities. The formular is easy and very effective:
1 hour, $100, 4 times a year- Massive Impact!
The latest meeting in April raised CI$ 31,000.00 for Cayman Animal Rescue Enthusiasts (C.A.R.E).
The next meeting will be held July, 14th! Check their website for further details: http://www.100womencayman.com/
CLICK HERE TO VIEW ALL IMAGES!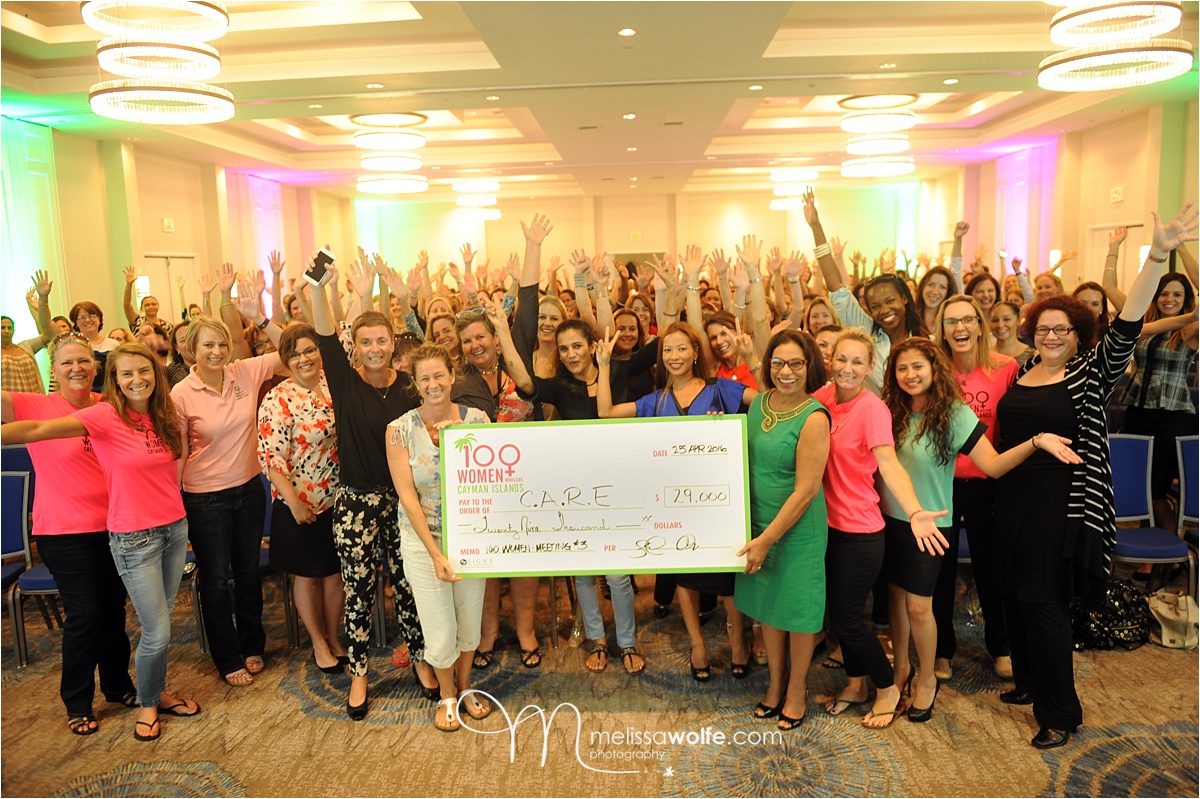 Breast Cancer Survivor Portraits by Melissa Wolfe
For many years my team and I have been supporting the local Breast Cancer Foundation by donating our time to photograph their fundraising events. Beyond that I also put a family portrait session into the live auction. This year the session was auctioned by a underwater photographer Ellen Cuylaerts and filmmaker husband Michael Maes.
Shortly after the Fundraising Gala, Ellen and Michael approached me that they would like to donate the session to local breast cancer survivors. We invited Ellen, Michael and  breast cancer survivors Aimee, Jenny, Sharon and their families to our home for an afternoon of fun and photos.
The 2016 Breast Cancer Gala Dinner is scheduled for the 1st of October.
Orange You Glad Gala photographed by Melissa Wolfe
For many years I have supported the local Meals on Wheels Orange you Glad Gala. The event raises much needed funds providing free meals to many residents in the Cayman Islands.
This year the fundraising continues pass the live auction event. Purchase a copy of your image from the event and you will further contribute to the efforts of Meals on Wheels. Just follow this link!
One of my favourite ongoing community partnerships is with the National Gallery of the Cayman Islands (NGCI). For many reasons…
#1… I am an artist and love all things creative, especially those that ignite conversation and spark thought.
Also, the NGCI was established around the time I moved to Grand Cayman (approximately 20 years ago). That same year, I met one of my best friends, who went on to become the current Director of the National Gallery. Natalie Urquhart has a vibrant passion for everything creative and is a strong advocate for local and regional arts and culture. My friends are a strong inspiration in my life. and we always have fun.
The annual Tea Party is graciously hosted by NGCI Board Member Ariane Dart in the lovingly designed gardens of her home. She invites a meaningful group of generous friends together for collaboration, fun and to raise money for education/outreach programmes. The NGCI programmes are available to all demographics, sharing an invigorating spirit of creativity. Everyone attending the Tea Party contributes directly and all actively share their love for arts and culture.
As a fellow Creative Cat… I must add that there is an Art to one's Personal Style and Fashion. That said, I enjoyed seeking out a suitable ensemble… and strong shoes to hike the garden trails. Balancing artistic fashion with Caribbean heat… and I curated a statement of light, breezy and… absorbent. Thank you Janet Jarchow of Better Angle Photography the amazing photo of me (which I don't often get)… as well as all the great shots as everyone arrived. simply stunning.
I did have a small wardrobe malfunction (post-event)….My kitten-heel-wedge was admitted to the Doctor at #1 Shoe Shop for repairs… that is true, I hiked that hard. I walked through the gardens at least twice, spotting new inspiration with each step. I couldn't help myself… I was lost in the art of creating visuals.
The NGCI hosts up to six exhibitions each year, the curatorial team balances quality Caymanian artwork with imported inspiration. Thank you National Gallery for all that you. We love you!
Melissa
FULL GALLERY AND ORDER PRINTS… CLICK HERE.
Sir Richard Branson in Cayman inspiring young students
Being at Camana Bay with Sir Richard Branson in Cayman to engaging and inspiring young minds….. what a day.
Youth from across Cayman, including Minds Inspired.
I'm Branson's biggest fan… and I took many MANY photos of our outstanding and impressive young people and some of SirRich too..
One of my favourite shoots of the year was the 2015 YCLA (Young Caymanian Leadership Award).  It was very stirring to see clips from the past TV productions(2000-2014) on the big screen and broadcast live by Cayman27.  Equally fun and nostalgic was sitting with some Alumni and sharing stories from across the years.  The Foundation celebrated it's 15th anniversary  "A Legacy of Leadership" at the Ritz-Carlton, Grand Cayman. Congratulations to the 2015 recipient Kellie McGee.
Full Album and High Resolution Images available here:
Young Caymanian Leadership Award Gallery